Description
The Pirates of the Caribbean Pinball Machine comes with Delivery and Installation, has been restored and is in stunning condition
The Pirates of the Caribbean Pinball Machine is manufactured by Stern, masters of the art of pinball machine design and manufacture.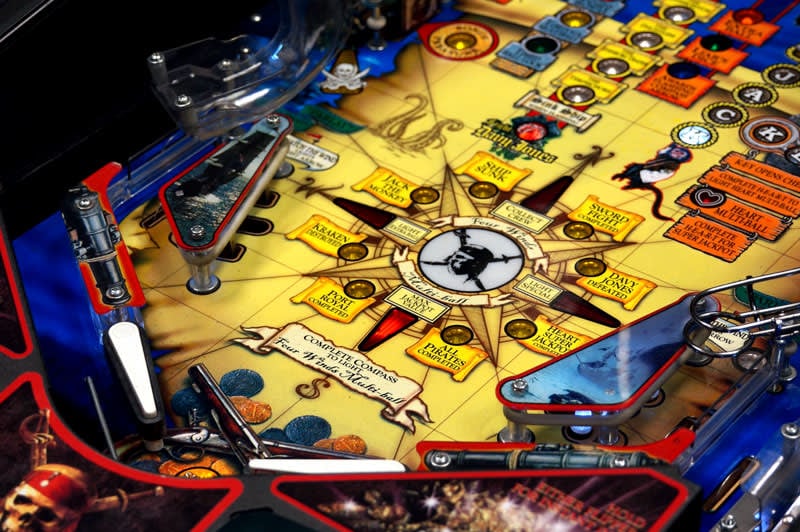 Based on the blockbuster movies, take on the role of one of the greatest pirates in cinema history: Captain Jack Sparrow! Go on an adventure to find treasure, defeat Davy Jones and his beastly Kraken and of course, bring back lots of rum!
Key Features:
Mechanical, rocking pirate ship that the player strikes with the pinball – with each hit, the ship sways in the ocean waves, lowers its sails and eventually sinks into the playfield, thus revealing a shot into the Kraken's mouth.
Mechanical Dead Man's Treasure Chest, through which the player can shoot the ball. Open the chest to reveal the beating heart of Davy Jones. Get the key to open the chest, then spell H-E-A-R-T to begin HEART multi-ball.
A contained spinning rubber disk where the player can capture up to three pinballs, representing Tortuga or Port Royal.
Compass on the playfield that shows the player each features they need to finish.
Complete all eight features and play Four Winds Multi-ball.
This pinball machine comes with a 1 year parts warranty. All parts that are faulty will be replaced. Often we can solve any problems over the phone and supply any necessary components for the customer to fit. If necessary our specialist repairer can visit your home to inspect and repair your machine on-site, but this would be chargeable. Please call us for a call-out quotation. If parts are required which are not carried at the time these will need to be ordered for you, and will sometimes need to be imported from the States – therefore, there can be a wait for the part to arrive.After our 1 year warranty has expired we will continue to offer you complete support for any problems you have, either over the phone or by email, and can provide a chargeable engineer call out should it be required. Whatever happens, we will be able to look after you and your pinball machine.
Warranty:Home Use