Description
The Avatar Pinball Machine comes with Delivery and Installation, and is in absolutely fantastic condition.
The Avatar Pinball Machine is manufactured by Stern, makers of some of the greatest pinball machines in history. This fantastic machine will make a great addition to any pinball arcade or collection.
Play as Jake Sully, hero of the hit movie Avatar, and take control of his avatar to escape the Thanator, fight the Viper Wolves, and ride the great Leonoptyrix. Destroy the colonel and activate exciting four-ball multiball, and score jackpots to save the Na'vi people from total destruction. Designed by John Borg, Avatar is an exciting modern pinball machine.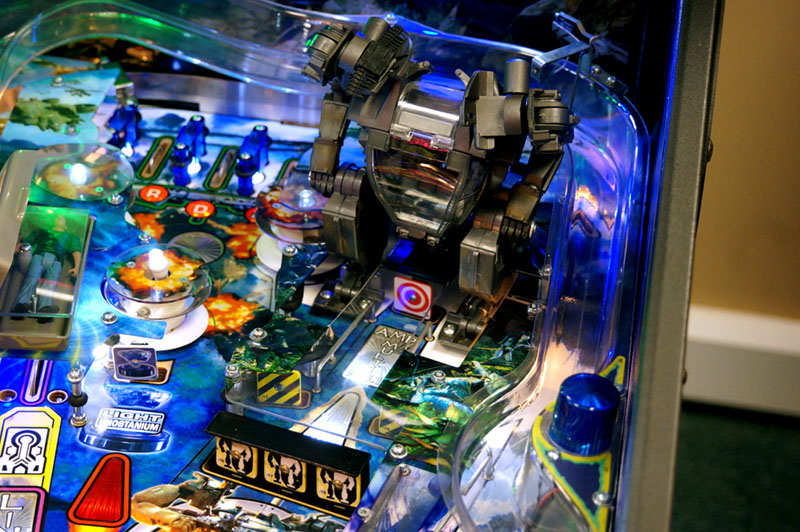 Features:
Mechanical AMP suit moves and shakes during multiball
Man inside transporter link playfield toy
2 flippers
3 pop bumpers
2 slingshots
13 standup targets
2 captive balls
Stop magnet for random ball play
2 spinning targets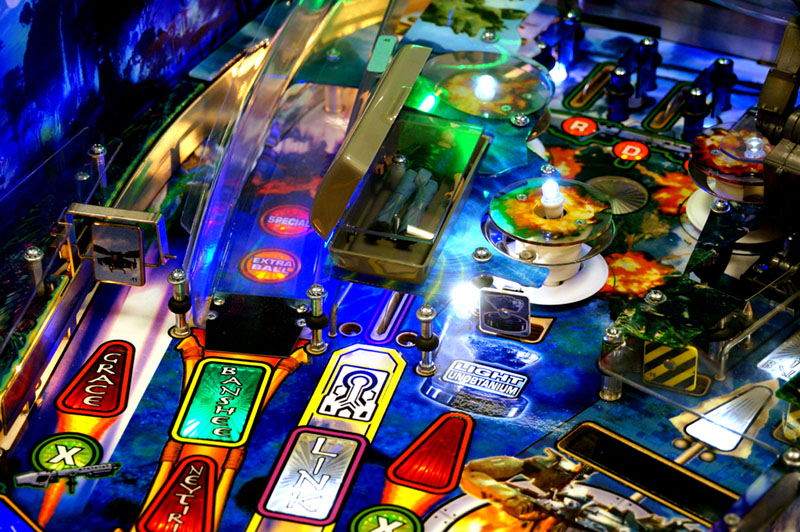 Pinball Table Measurements:
| | |
| --- | --- |
| Dimensions | |
| Height: | 75 1/2″ |
| Width: | 27″ |
| Depth: | 55″ |
| Weight: | 113kg |
Please ensure you fully check that a pinball of this size will fit into your intended location and that it will fit through your doorways and corridors to reach your intended destination.
Condition:
This pinball machine is in amazing condition, and has needed no major repairs or replacement parts. It has been fitted with an LED lighting kit, making it even more brilliant and bright, and new rubbers have been fitted to the flippers.
All our pinball machines go through a thorough inspection and reconditioning process, ensuring that they play perfectly with no errors. We will fit new balls and new rubbers where necessary. New decals and parts will be fitted where necessary. We will make cosmetic repairs if needed. We describe our pinball machines as being in excellent reconditioned condition. This is a vintage machine and can therefore carry some cosmetic imperfections.
Some machines we sell are fully restored, where we will fit new decals, new playfields, new parts such as ramps, and even upgrade certain items, such as the sound components. Where this type of reconditioning process has been undertaken we will make it absolutely clear that this is the case and the price will reflect the amount of time taken and costs incurred in this process.
Warranty:
Home Use:
This pinball machine comes with a 1 year parts warranty. All parts that are faulty will be replaced. Often we can solve any problems over the phone and supply any necessary components for the customer to fit. If necessary our specialist repairer can visit your home to inspect and repair your machine on-site, but this would be chargeable. Please call us for a call-out quotation. If parts are required which are not carried at the time these will need to be ordered for you, and will sometimes need to be imported from the States – therefore, there can be a wait for the part to arrive.
After our 1 year warranty has expired we will continue to offer you complete support for any problems you have, either over the phone or by email, and can provide a chargeable engineer call out should it be required. Whatever happens, we will be able to look after you and your pinball machine.
Pinball machines are complicated items, which don't like being moved about, nor do they like the cold or humidity. Therefore, if you chose to move the pinball machine from where we originally installed it, or it is stored in a cold or damp location, our warranty will become null and void. We won't be able to supply any parts for your machine free of charge if it has been accidentally damaged or you have tampered with it in any way.